Like Windows Vista, Windows 7 also has the option to change partition size, which means you can resize (extend or shrink) partitions with its built-in Disk Management (DM) (see picture below). You can change partition size, create, delete, format partitions by DM without the help of third party partition software.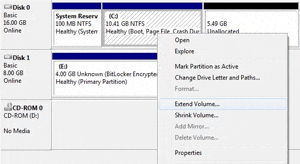 However, it has the limitations. If you want to extend Windows partition with its built in DM, please note that this operation is only based on the premise that the unallocated space is required to be adjacent to the partition which you are going to expand or shrink. If not, you absolutely cannot extend any partition. And the fact is that the hard disk has been divided into two partitions generally, one for system and the other for data. If your system partition in Windows 7 is running out of space and more space are needed, or more partitions are required for a better partition organization, how can you change partition size for your Windows 7 partition or repartition it?

So, the third party partition plays an important role in this situation and it will be more convenient and safer. Here we will recommend you a good partition manager software to change partition size for your windows 7 Operating System - EASEUS Partition Master Professional Edition. It is comprehensive hard disk partition management tool and system partition optimization software, allowing you to create, Delete, Resize/Move, Copy, Merge, Splite or Format partition for Windows 2000/XP/Vista/Windows 7 both 32 bit and 64 bit. With user-friendly interface, it is such a powerful Windows 7 partition manager which can resize and move partitions without any data loss. All the operations can be previewed before you make the changes. Meanwhile, it can make up the limitations of Windows 7 in disk partitioning.

Except changing partition size under Windows environment, EASEUS Partition Master Professional Edition also enable you to create a bootable CD to manage the partitions.

Learn the step-by-step instructions of changing your partition size for windows 7 from here.

Related Articles:

Resize windows 7 Partition with Windows 7 Partition Manager Software
How to Increase Partition Size in Windows 7 with Magic Partition Manager?
Resize 64 bit Windows 7 partition with professional partitioning software
Introduce to the Editions of Windows 7 and Windows 7 Partition Manager
How to Partition Windows 7 to well Manage it?
Trackback: http://blog.easeus.com/action.php?action=tb&id=328
Tags: change partition size windows 7,easeus partition master professional edition