Here comes good news. After persistent effort, EASEUS, a provider of affordable, scalable partition management, data recovery and disaster recovery utility, released the newest version of its consumer partition management software – EASEUS Partition Master 4.1.1, a comprehensive partition tool and system optimization software for Windows 2000/XP/Vista and Windows server 2000/2003/2008, now supports the much anticipated Microsoft Windows 7 operating system. Its new version V4.1.1, with windows 7 supported, offers more stability and safety for its users to manage, re-organize their disk partitions and provide you with powerful partition and hard disk management to increase the efficiency of Windows-based system administration.

As the next version of Microsoft coming on October 22, 2009, Windows 7 has drawn much attention and most users wrote to ask whether EASEUS Partition Master is ready for Windows 7, too. No doubt, the answer is yes, EASEUS Partition Master 4.1.1, an essential partition tool for users who are ready to migrate to the much anticipated Windows 7, now has prepared for the better administration and system optimization of your Windows 7. That is, it enables you to extend system partition for smooth Windows running, create new partition, resize/move partition, copy partition or disk for data protection and repartition the hard disk for better Windows 7 hard disk management. It is the same of working under other Windows operating systems.

With EASEUS Partition Master 4.1.1 in place, users can have assurance that they will not be frustrated with low hard disk space warning and are able to extend system partition or shrink partitions including dynamic disk or RAID in an easier and safe way under Windows 7, even in virtual machines.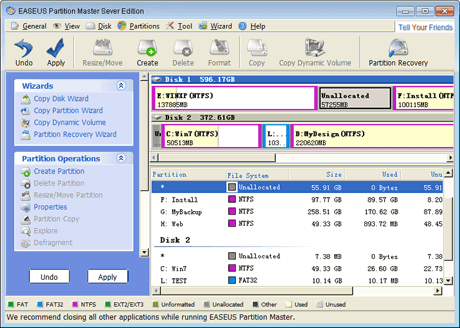 For homer users, you may free download EASEUS Partition Master Home Edition to free enjoy its powerful functions to have a better administration of your Windows 7 disk partitions now.
Trackback: http://blog.easeus.com/action.php?action=tb&id=314
Tags: easeus partition master,windows 7 partition manager