EASEUS Partition Master now can help to extend NTFS system partition without rebooting computer to minimize the downtime and maximize the efficiency!

I believe that almost everyone using computer have had encountered the low disk space warning created by Windows to alert you about running out of space, right? One way to solve this problem is to enlarge the system partition to optimize disk space usage while increase the efficiency of system administration under Windows. EASEUS Partition Master helps you to realize this target in few steps with all your data protected.

Plus, if the system partition happens to be a NTFS one, LOL, EASEUS partition Master will even save you the trouble of rebooting! EASEUS Partition Master can help t to extend system partition in NTFS format without reboot under almost all of Windows mainstream operating systems from Windows 2000/XP/Vista/Windows 7 to Windows Server 2000/2003/2008, plus the data will be completely protected during the entire extending process. Please check out here for step by step instruction to extend NTFS partition without reboot.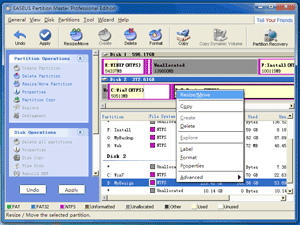 EASEUS Partition Master also can help to resize other NTFS partitions besides NTFS system partition without reboot! Before that you must ensure all applications in the partition are closed, check your disk firstly, keep 5~10% free space as our product needs some space for data exchanging during resizing. And do backup your data with our free Backup software to ensure the data security if it is possible.

Free download EASEUS Partition Master to extend system partition without rebooting computer.
Trackback: http://blog.easeus.com/action.php?action=tb&id=330
Tags: extend system partition