Yes, Windows 7 comes to a reality now, have you installed Windows 7? Or just plan to create a Windows XP and 7 dual-boot system? Anyway, you will go to use it sooner or later, yes? So, have you prepared a partition manager in your toolkit for better Windows 7 administration? If so, what is that, EASEUS Partition Master or Partition Magic?

As we know, as the hard disks become bigger and bigger, managing them effectively is more important than ever. Now, you installed the new Windows 7, it is the right time to partition your hard disk reasonably and make organizing files easier and minimizes the potential for work when problems arise. How do you plan to partition your hard disk? One is for system, the other for data, or something else?

Actually, EASEUS Partition Master is a pretty good one for you to manage your Windows 7 hard disk. For both PC and servers users, it enables you to create new partition, resize or move partition without data loss, extend the system partition without rebooting, and copy partition for data protection. And the install is quick and painless and the interface is simple and easy to figure out, you can use it to DIY your hard disk now as you expect.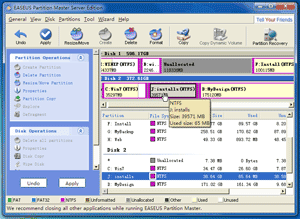 Besides, there are five editions available for different users, EASEUS Partition Master Home Edition is free to home users; EASEUS Partition Master Professional Edition for business users or 64 bit XP/Vista/Windows 7 users; EASEUS Partition Master Server Edition for server users; EASEUS Partition Master Unlimited Edition for unlimited usage within one company; and the Technician Edition for IT technical consultants who providing service for their clients. Please download it now and resize the partition of your Windows 7!
Trackback: http://blog.easeus.com/action.php?action=tb&id=315
Tags: resize partition in windows 7,free windows 7 partition manager