Has your Windows XP/Vista hard disk been partitioned as you desired? Is there only two partition available, one for system, and the other for data on your Windows hard disk? Have you been looking for an easier solution to alter disk partition to the best Windows hard disk performance? Computer users like you and me may meet some problems more or less during Windows running: system partition running out of space, or more partitions needed to be created, and an easier and safe way to alter hard disk under Windows is much welcome and introduced.

As we know, there are some ways to manage your disk partitions to either expand or reduce them. If you are Windows Vista users, say, you can shrink or extend disk partitions under Disk Management, while the limitations to alter disk partition under Windows Disk Management itself make many things impossible. Alternatively, some third party software like EASEUS Partition Master will be the best supplement to manage your hard disk and optimize the Windows performance. For example, to alter system partition with low hard disk space problem; resize/move partitions for reasonable use; repartition hard disk for better data management, copy disk partition or disk for data protection, etc. All for a better Windows hard disk administration and hard disk optimization.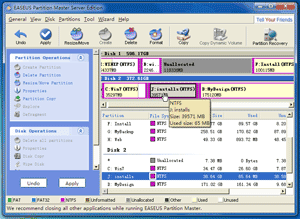 Yes, EASEUS Partition Master, offering free version to home users and other commercial versions for more users, is comprehensive hard disk partition tool and system optimization software for Windows-based administration to alter disk partitions without data loss. It works on Windows 2000/XP/Vista/Server 2000/2003/2008 for both basic and dynamic disk, even for RAID.
Trackback: http://blog.easeus.com/action.php?action=tb&id=308
Tags: partition manager,easeus partition master,alter disk partition