RAID boasting many preferential features like good performance and storage efficiency is welcome by most computer users, especially for Windows server users, while is that means that your RAID has been well partitioned and is running without any problem? Have you had a bad experience of bad server performance due to your system partition running out of space? Or the data partitions need more free space from other partitions for more data storage? Maybe it is not rare for server users like you and me. So what are the solutions? Rebuilding the hardware RAID with a larger hard disk to enlarge/rearrange the RAID partition? Or an easier way using third party partition manager software like EASEUS Partition Master Server Edition to easily enlarge RAID partition and partition RAID partition as desired is available? If there is an easier way, I think no one is willing to be frustrated by the complicated operations offered by Windows itself?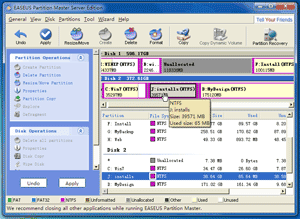 As we know, there are hardware RAID including RAID 0, RAID 1, RAID 5 and software RAID (dynamic disk, generally). Each RAID with its special quality is adopted for different users, say, RAID 5, which is seen by many as the ideal combination of good performance, good fault tolerance and high capacity and storage efficiency, is best suited for transaction processing and is often used for "general purpose" service, as well as for relational database applications, enterprise resource planning and other business systems.

Yes, Windows server users do benefit a lot from RAID partition, while the configuration of RAID is also much complicated than non-RAID hard disk, so is EASEUS Partition Master supports RAID, too?

No doubt, yes, EASEUS Partition Master Server supports to enlarge RAID partition on both Hardware RAID and Software RAID (dynamic disk) safely under Windows 2000/2003/2008; it also enables you to resize/move RAID partition, create/delete partition on RAID, or copy RAID partition, etc.

Therefore, how to enlarge RAID partitions easily without data loss with EASEUS Partition Master Server Edition? Please free download the demo and follow the instructions to enlarge RAID partition for your Windows server.
Trackback: http://blog.easeus.com/action.php?action=tb&id=307
Tags: enlarge raid partition,increase raid system partition