Generally, most users know how to partition basic hard disk, but how about dynamic disk? Sometimes, especially server users want to partition dynamic disk, or resize dynamic disk for new volumes. But they are always puzzled of how to partition dynamic disk safely without data loss.

There are many differences between basic disk and dynamic disk, especially on partition. In a basic disk, all partitions are in the same physical hard disk and controlled by MBR, partition table, DBR, etc. But in a dynamic disk, the dynamic volume is constructed by two or more physical disks, so all disk information and data have been changed while you partition a dynamic disk.

Can you partition dynamic disk? The answer is yes, although you cannot partition and resize the dynamic disk directly. How to partition the dynamic disk? I recommend a dynamic disk partition tool - EASEUS Partition Master to help you partition dynamic disk within several steps.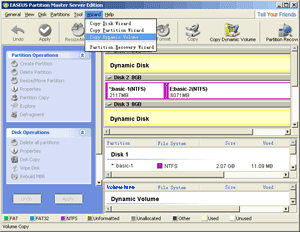 Copy partition dynamic volume to basic disk and resize partition steps by steps, after these; you could remain basic disk or convert it back to dynamic disk in Disk Management. In this way, it is safer and no data loss than convert dynamic disk directly to basic disk to resize the partition.
Trackback: http://blog.easeus.com/action.php?action=tb&id=305
Tags: easeus,partition manager,partition dynamic disk