Partition Magic overview

Partition Magic is a software utility for hard disk drive partitioning originally made by the Power Quest Corporation but owned by Symantec in 2003. The software runs on Microsoft Windows 98, Me, NT, 2000 and XP (Windows Server 2003, Windows Vista, Windows 7, Windows Server 2008 and Windows 8 are not supported by Norton Partition Magic), or from a bootable CD/DVD and has the capability of resizing, creating different drives (partitions) and other modifications to hard disk drives without losing any information on the hard disk drive.

Maybe you can still use Partition Magic under Windows 8, however, it is so unstable that you have great chance to meet problems or system crash when resizing Windows 8 partition.

Partition Magic alternative for Windows 8

Partition Magic is a famous partitioning software, but it is incompatible with the latest Windows operating systems such as Windows 7 and Windows 8. Because of the limitation of Partition Magic, its alternative like EaseUS Partition Master, as popular partitioning software, this partition magic alternative supports both 32 and 64 bit Windows 2000/ XP/Vista , Windows Server 2000/2003/2008 and the latest Windows 7 and Windows 8.

Main features of this Windows 8 Partition Magic software

Besides the basic features of Partition Magic, this Partition Magic Windows 8 alternative also supports the advanced features that Partition Magic does not have.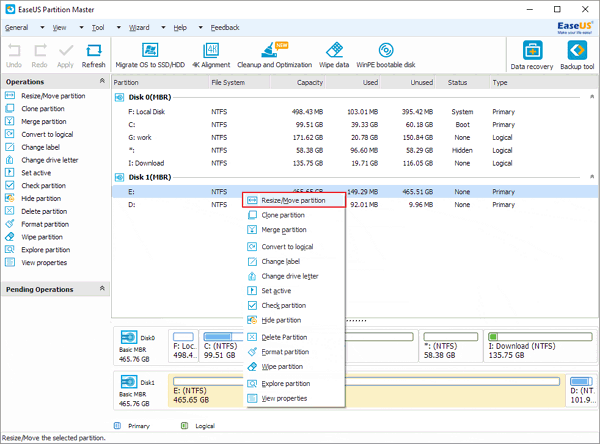 1.Resize/Move partitions to avoid data loss, like extending NTFS system partition without reboot to maximize PC performance.
2.Safely merge two adjacent partitions into a bigger one without data loss.
3. Wipe data on unallocated space.
4. Wipe disk or wipe partition to permanently wipe sensitive data on disk.
5.Convert dynamic disk to basic disk and Convert FAT to NTFS file system.
6.Convert primary partition to logical partition and vice versa: convert a primary volume to logical to create a fifth volume on a disk with 4 existed primary volumes.
7.Speed up your computer by defragmentation.
8.Disk surface test to check and find bad sectors and rebuild MBR to boot system again.
9.Linux partition management: delete, create, format, recover EXT2/EXT3 partition, etc.
10.Recover deleted or lost partitions
11.Copy partition with fast file-by-file copy to protect your data.
12.Copy entire hard disk to another without Windows system reinstallation.
13.Upgrade system disk to a bigger one with one click.
14.Support all hardware RAID, multiple removable storage device, hard disk and GPT disk (support up to 2TB partition on MBR and 4TB partition on GPT).

Several editions of Windows 8 Partition Magic software for different users

EaseUS Partition Master has five editions for different users. EASEUS Partition Master Home Edition is totally free of charge for home users, Free Download It Now! And EASEUS Partition Master Professional is as low as $19.95; it is no doubt the best and cost-effective partition manager for Windows 2000/XP/Vista/7. While for Windows server 2000/2003/2008 users, EASEUS Partition Master Server Edition is the right choice to manage hard disk while minimizing server downtime and ensuring business continuity. For companies and enterprises, EASEUS Partition Master Unlimited Edition is available for all Windows server systems. For IT professional, system administrator, technician and consultant, EASEUS Partition Master Technician Edition is an all-in-one partition solution and reliable PC & Server disk management toolkit to offer technical services with unlimited usage for their clients. Please check edition comparison.
Trackback: http://blog.easeus.com/action.php?action=tb&id=504
Tags: partition magic,windows 8 partition magic,partition magic windows 8