"I have a 2003 server with an 8 gig system partition and 66 gigs of data partition. The disk is a dynamic disk. I want to increase the system volume because it has run out of space, is there any way to resize the dynamic disk without data loss?"

Yes, absolutely. Although the built in functions in disk management is not able to extend the system volume of your dynamic disk, the alternative comes to your side now, say, you can use the third party partitioning software like EASEUS Partition Master to realize it – the solution is to copy/clone dynamic disk to basic disk firstly and then resize it on basic disk; or you may choose other ways, like converting the dynamic disk to basic disk directly and resize it, while it may expose your data to a larger risk, etc. No doubt, the first option would be a favorite when data comes to a priority.

Dynamic disk, indeed, boasting many advantages like supporting volumes spanning multiple disks and flexible volume reconfiguration is welcome by computer users, while the limitation of its Disk Management confines that only Simple Volume and Spanned Volume can be extended, that is, you cannot:
Extend system volume/boot volume
Expand mirror volume
Increase stripped volume
Extend raid 5 volume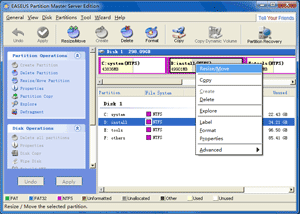 All mentioned above are so frustrated and annoying, especially when the system volume of your server cannot be extended when it is out of space. Do not worry now, EASEUS Server Partition software enables you to copy/clone dynamic disk and resize it, to increase or decrease for system or non system partition or only copy to backup under Windows 2000/XP/Vista/2003/2008. Just download it and follow the step by step instructions to resize dynamic disk and get rid of "low disk space" warning and optimize the performance of your server or PC.
Trackback: http://blog.easeus.com/action.php?action=tb&id=299
Tags: resize,partition manager,copy,clone,dynamic disk