What is the best solution to expand RAID 5 partition on Windows Server without data loss? For example, your system partition on RAID 5 is running out of space. How to expand this RAID 5 partition easily and safely? You will find the solution in this blog.

Overview of RAID 5

RAID (Redundant Array of Independent Disks) technology has been proved as the best technology to protect large-volume data while providing excellent performance. There have been a variety of implementations of RAID, and various products have been delivered to the market. Among them, the most widely adopted RAID technology is hardware RAID 5, which offers the good performance with superior reliability.

The typical advantages of RAID 5 are:
Increased storage array performance
Full data redundancy
Ability to run 24x7 with hot swap
Due to its excellent reliability and performance, RAID 5 is preferred by high-end Windows Server users, especially Window Server 2003 users. When there's no enough space on RAID 5 partition to hold more data, IT administrator needs to expand this RAID 5 partition in order to optimize the usage of server computer.

Best Solution to Expand RAID 5 Partition without Data Loss
To expand RAID 5 partition on Windows server without losing data, reliable RAID 5 partition software is needed, such as EASEUS Partition Master Server Edition. With this program which supports all levels of RAID on both Windows server and desktop, expanding RAID 5 is a piece of cake.

Firstly, launch EASEUS Partition Master Server Edition. Select the RAID 5 partition to be expanded. Then right click it and choose "Resize / Move".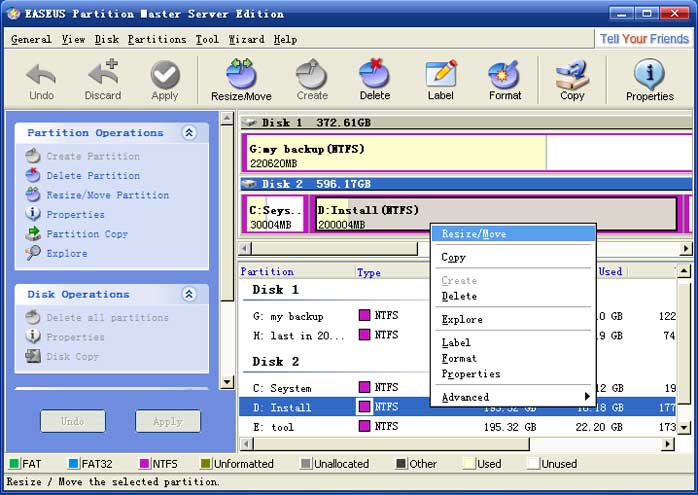 Then you can expand RAID 5 partition without data loss by dragging the handle to the partition size you want. Finally, apply the operation.

By only several simple steps, RAID 5 partition can be safely expanded.
Trackback: http://blog.easeus.com/action.php?action=tb&id=277
Tags: windows server,raid 5,repartition