NTFS was designed to meet a number of specific goals. In no particular order, the most important of these are: Reliability, Security, Storage Efficiency, Breaking Size Barriers, Long File Names and Networking. Due to these shinning points, NTFS is now in widespread use. In order to maximize the performance of NTFS partition when it runs out of space, the most helpful way is to resize NTFS partition without losing data. What shall we do if we need to do so? The first concern of most users who want to resize NTFS partition might be easy operation or data security, or both. This article will provide you a solution to resize NTFS partition without any data loss.

Upon recommendations from many computer users, the best way to resize NTFS partition is to use the reliable third-party NTFS partition resizing software - EASEUS Partition Master Home Edition. And a big surprise is that this powerful NTFS partition resizing software is totally free to use!

Please free download EASEUS Partition Master Home Edition and then directly launch this NTFS partition resizing freeware.

Select the NTFS partition to be resized.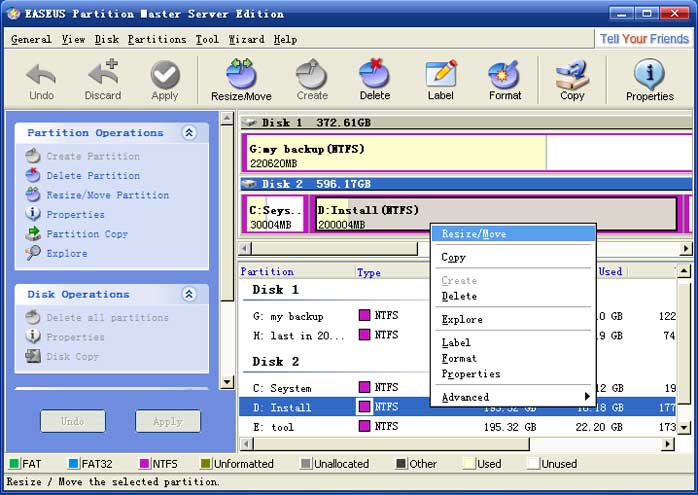 Then click "Resize / Move" to continue resizing NTFS partition by simply operating the disk map.

Additionally, this freeware - EASEUS Partition Master Home Edition also supports FAT file system. This means that it not only allows you to resize NTFS partition, but also to resize FAT partition. Moreover, the "Create Partition" utility built in this program can help you create NTFS / FAT partition. Its "Convert Partition" function enables you to convert FAT (FAT12 / FAT16 / FAT32) to NTFS file system.
Trackback: http://blog.easeus.com/action.php?action=tb&id=279
Tags: reisize ntfs partition