During the selection of partition manager for SBS 2003, we made the strict rules: it should never hurt other partitions keeping the whole partition intact and prevent everything from data loss, etc. And among the partition software, EASEUS Partition Manager Server Edition is with powerful functions at the best price to let business users to resize, move, delete, hide and unhide partitions on small business server 2003.
Here comes an example of repartitioning SBS 2003. There is a company user who wanted to find a disk partitioning tool under Windows Small Business Server 2003. He recently installed Windows Small Business Server 2003 (64-bit) on his computer. His C: drive was properly formatted before installation, but his large drive (used for storage) 250GB was left alone. Having loaded the new system, 250GB drive is 'unallocated' under Disk Management. He was not sure how to activate the disk (or 'create new partition') without loosing the data on it. Then he wrote his story on Yahoo answers to seek help. Some expert told him EASEUS Partition Manager Server Edition works. Then he tried with delights. With help of this tool, his new partition was created successfully without any file loss.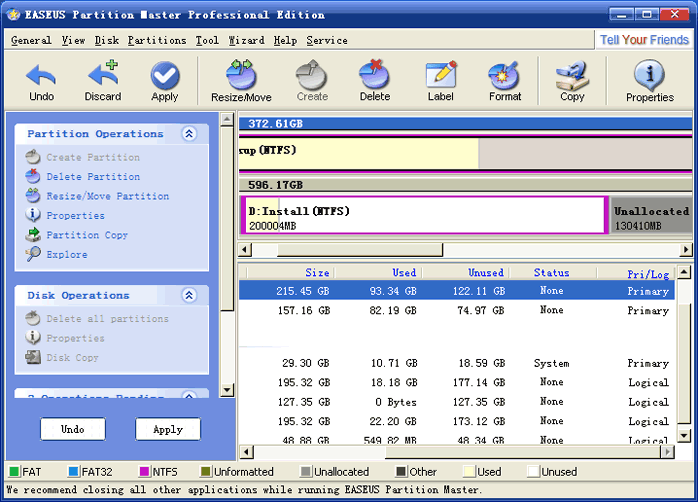 Two more impressive features of this SBS partition software
1. You may burn a bootable CD to partition SBS.
2. There is a powerful backup plug-in: Partition & Disk Copy. This plug-in allows users to get the full backup of partition or disk, and then people don't have to worry about data loss. You can find more features Here.
Learn More:
· How to resize Windows Server partitions with EASEUS Partition Manager Server?
· How to resize Windows Server 2003 Partition?
Trackback: http://blog.easeus.com/action.php?action=tb&id=236
Tags: partition software