Several months ago I tried partitioning my hardware after installing Vista. Due to the installation of the Vista, my C drive only had 3 GB left while my D drive was 9 GB left - yes it's a small hard drive and this occurred without my knowledge during the installation process of Vista. After trying countless partition programs and continually running out of space on my C Drive, the ONLY program that installed extremely quickly, very smooth with absolutely no problems at all was EASEUS Partition Master Home Edition, and the icing on the cake was it allowed me to resize my C and D drives in a matter of 10 minutes.
I have never done this sort of thing before so I want to tell you this program was sent from the gods. It works flawlessly in a WYSIWYG type. So I write a thank-you note to the developer of EASEUS Partition Master.
Today I receive a news letter from EASEUS, they inform me the new free partition magic alternative, EASEUS Partition Master Home Edition 3.5 is out, I am overwhelmed by an unexpected favor, so I install the great program immediately. I find there is something fresh and special shown to me, it could convert FAT to NTFS and explore partitions, wonderful!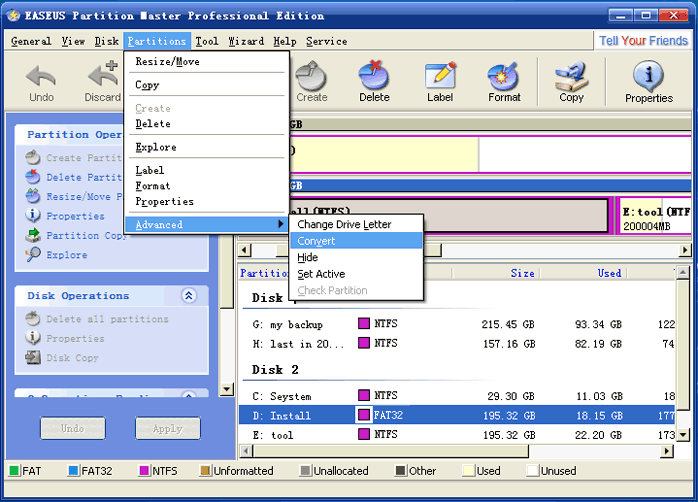 As Partition Magic alternative, EASEUS Partition Master is a comprehensive hard disk partition management software for Windows Server 2000/2003/2008 and Windows 2000/XP/Vista partition to Resize and Move, Copy, Create, Delete and Format, Convert, Explore, Hide and Unhide server and non-server partitions and much more.
What's more, the freeware works perfectly with hardware RAID and Windows 2000/XP/Vista (32 bit) Operating Systems. Your data is completely protected during all operations. Why not free download EASEUS Partition Master Home Edition now to enjoy it like the commercial program Partition Magic?
Get it now...you won't be disappointed at all!
Trackback: http://blog.easeus.com/action.php?action=tb&id=266
Tags: free partition magic alternative