If your computer's hard drive is running low on available disk space, you will see on a fairly regular basis as your hard drive fills up is the Low Disk Space warning: "You are running out of disk space on Local Disk [drive]. To free space on this drive by deleting old or unnecessary files, click here."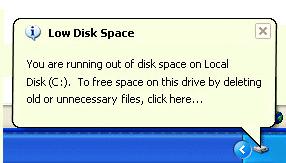 Sometimes, you may just need to ignore or disable your Windows low disk space. But it is not so simple when the problem is on the C: drive. In order for your computer system to operate properly it needs a minimum amount of available disk space on the system drive.
Here are several methods to solve this problem:
1. Click on the Low Disk Space popup. You can run the Disk Cleanup function by clicking on the Low Disk Space popup. This tool will scan your drives and look for files that you can safely erase. Usually this will be little help.
2. Remove programs. You can consider removing programs that you don't use and moving large media files (videos, music, graphics) to other partition. But you will spend a lot of time to do this.
3. Extend your partition. Use a partition manager software to resize partition is the easy and efficient way. You can extend your partition as you wish and not need to worry about data lose.
As Partition Magic alternative, EASEUS Partition Manager Home Edition is a FREE comprehensive hard disk partition management software to let you enjoy all the powerful functions without paying a cent: Resize and Move partitions, Copy Partition, Copy Disk, Create, Deleted and Format partitions, Hide and Unhide partitions and much more. What's more, the freeware works perfectly with hardware RAID and Windows 2000/XP/Vista Operating Systems. Your data is completely protected during all operations.
Say goodbye to "low disk space" warning after enlarging your partition. Click here for step by step enlarge partition tutorial.
Learn more:
· Resize My Windows Server Partitions, and Resize My House
· Instruction to Resizing Partitions for Server System
Trackback: http://blog.easeus.com/action.php?action=tb&id=225
Tags: low disk space